Hair Transplant Treatments in Turkey
When getting hair transplant treatments in Turkey, knowing exactly which treatment is best for you is the first step. We'll take you through the different types of treatments, what to expect from the treatments and the recovery process – maybe a combination surgery is what you need!
Others also read:
Different Types Of Hair Transplant Treatments
There are two main types of hair transplant treatments in Turkey, namely FUE and DHI. There is a distinct difference between the two, and we even offer you the Ideal solution of opting to get a combination or even exclusive treatment.
Understanding the difference between the FUE and DHI procedures will help you understand a bit more about which will be the best option for you. When choosing to do your hair transplant treatment with IdealofMed, you will be able to also choose a combination treatment of the two above-mentioned treatments. 
No need to worry if you're unsure of which one to take just book a free consultation today and get in touch with one of our patient consultants who will give you advice on which would be the best option for you.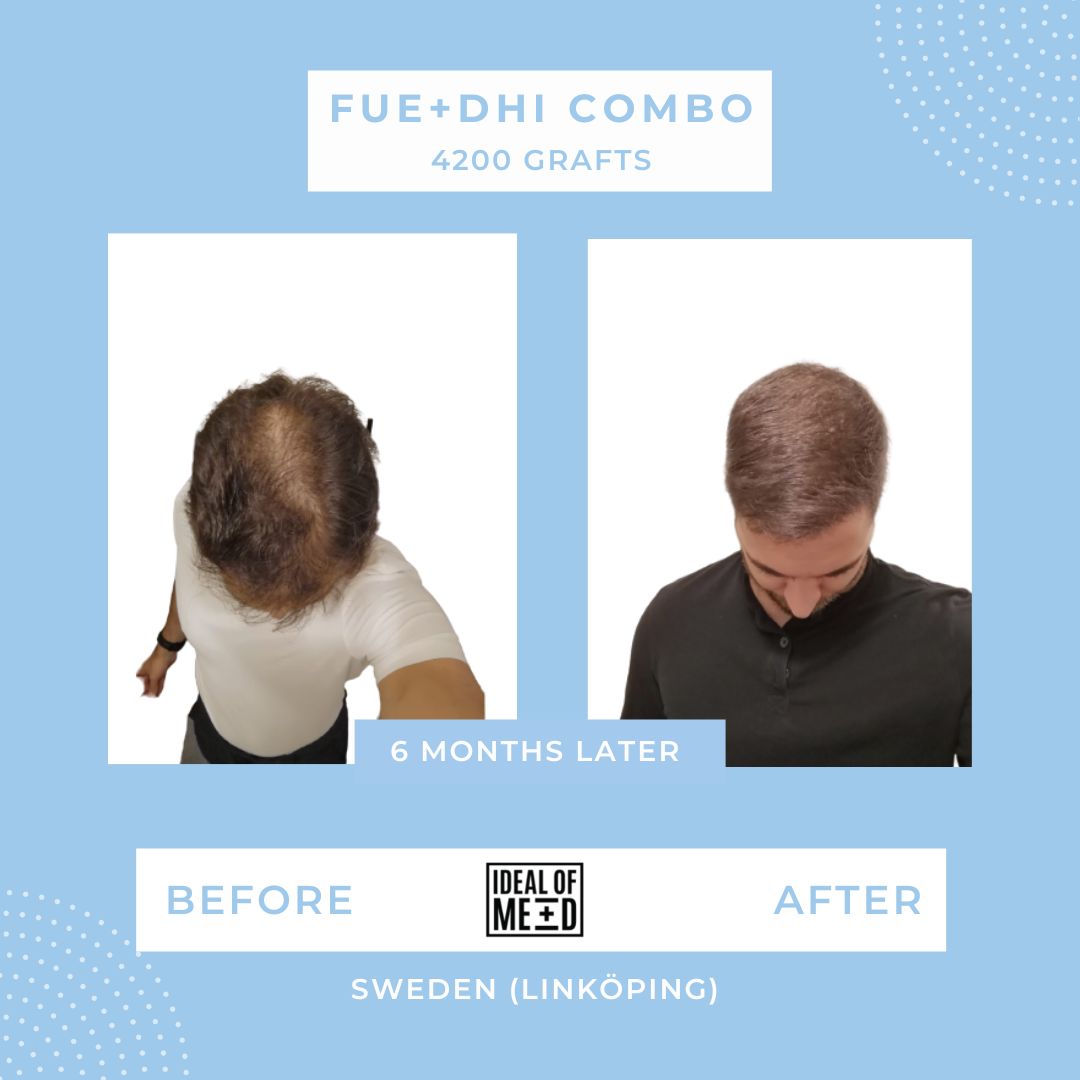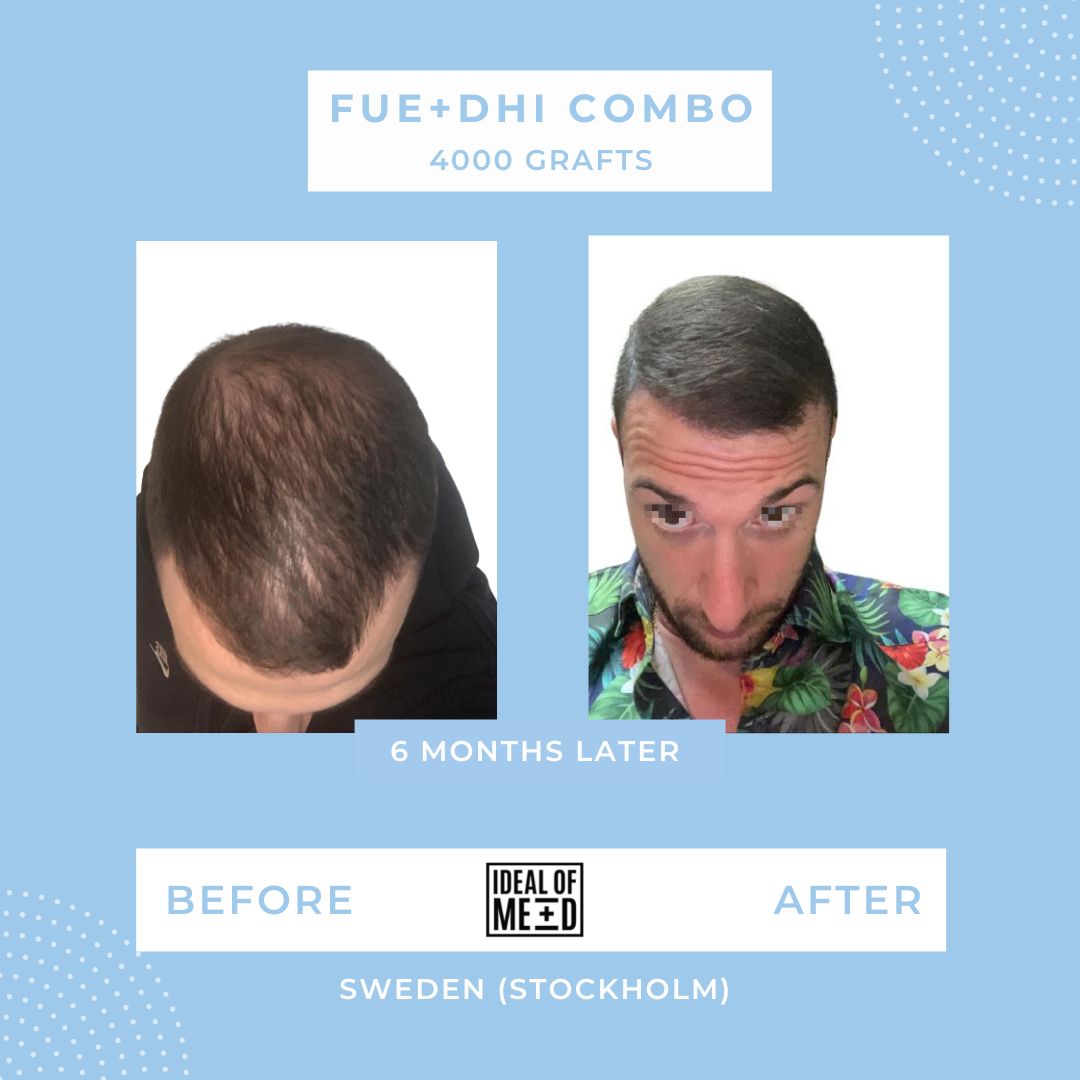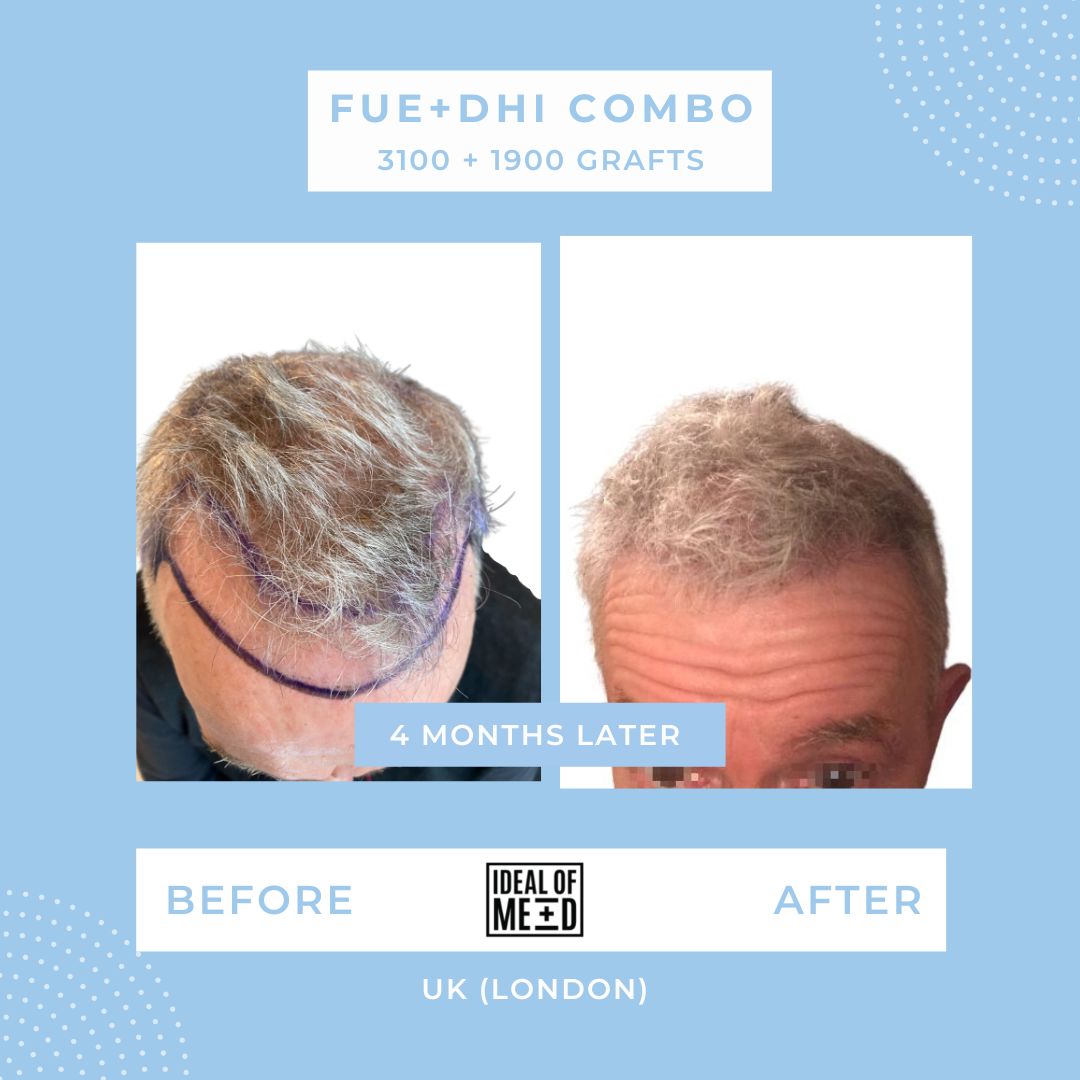 FUE Hair Transplant Treatment
The FUE (Follicular Unit Extraction) is a hair transplant treatment in Turkey that is best used to cover up bald areas. There is a standard FUE method, as well as an FUE Sapphire Method. The FUE Sapphire treatment involves the use of a Sapphire Blade to make micro incisions, whereas the standard method makes use of a scalpel.
The standard FUE method is a more invasive surgery that has visual scarring and a longer healing time compared to the Sapphire Method. IdealofMeD only offers the FUE Sapphire Method. There is almost no scarring, and it can barely be seen with the naked eye.
DHI Hair Transplant Treatment
If you find yourself having hair that is thinning, then the DHI (Direct Hair Implantation) hair transplant might be just what you need. The DHI method works very similarly to the FUE Sapphire Method when it comes to the extraction of the follicular units from the donor area, but the difference comes in with the insertion process.
Rather than damaging the surrounding area with micro-incisions with a Sapphire Blade, the follicle units are inserted into an Ideal Choi Implanter. This then inserts the follicle units between existing hair units without causing any damage to the surrounding area.
IdealofMeD Combination Surgery
One of IdealofMeD's biggest trademarks when it comes to hair transplant treatment treatments is definitely the FUE/DHI combination surgery, as this is rarely offered anywhere else. You will be treated by a 6–8-person surgical team to get both the FUE Sapphire and DHI methods in one single treatment.
This treatment is great for patients that might have a balding crown, and thinning hair across the rest of your hairline. In providing the best results – in the most comfortable way – our hair restoration process has been tried and tested thousands of times a year, giving you the ease of mind.
Executive Hair Transplant Package
This is a very popular treatment offered at IdealofMeD, as you'll go home without a trace of getting a hair transplant treatment. Generally, the Executive Surgery combines the FUE Sapphire and DHI methods.
What allows you to return home without a trace of getting treatment is that you'll stay in Istanbul for up to 10 days. Throughout this time, you will get a specialised nurse washing your hair daily, you will receive hair vitamins, and you'll be in a hyperbaric chamber that allows for a speedy recovery.
Female Hair Transplant
The Female Treatment is similar to the Executive Treatment in that the FUE Sapphire and DHI methods will both be used, when possible. The FUE Sapphire will be used on the hairline temple and sides and the DHI method between the long units, followed by 10 days in Istanbul.
You'll get all the same treatment as you would with the Executive Treatment. Along with the specialised nurse washing your hair, the hair vitamins and the hyperbaric chamber, we ensure you leave our premises looking stylish with no traces of the procedure.
Beard Transplant
Many men do tend to feel insecure about their facial hair. This can be because they are unable to grow a full beard, or perhaps they feel that their beard isn't thick and full enough. This isn't something to feel bad about though, as it is quite common.
However, if you do feel the need to do something about it, we do offer hair transplant treatments in Turkey for beards too. You will also get to choose from various packages that will suit your needs the most.
TALK TO A HAIR TRANSPLANT SPECIALIST
What To Expect From Hair Transplant Treatments
Hair transplant treatments in Turkey can take anything from 6 to 8 hours, depending on the number of grafts that need to be inserted, where our medical team will start inserting the follicle units into the made micro incisions.
Once the insertion stage of the procedure is done, the medical team will thoroughly examine the work done, and a bandage will be needed for the 36 hours. After the hair transplant treatment, you will get a post-operational consultation – which usually takes around 30 minutes. Within this consultation, the following will take place:
You will receive a detailed report of the procedure
Before and after photos will be shared with you
You will be advised on the do's and don'ts
You will receive your Ideal Hair Transplantation Box
Any additional questions you may have will be answered here
Recovery After Hair Transplant treatments
The recovery time is the most important. The recovery process isn't long at all, and you can even spend the very next day touring around Istanbul if you feel the need, as long as you take it easy and don't overdo anything.
There are a few post-op steps for you to follow in ensuring the best possible quality for your hair transplant treatment outcome. Some of those tips include:
Don't do any strenuous activities, such as exercising
Gently wash your hair
Avoid scratching your head
Avoid getting direct sunlight on your head
Don't drink any alcohol within the first week
As you can see, there are a few things you'll need to sacrifice when it comes to hair transplant treatments. However, they are well worth it when you see the outcome of your hair transplant. Your confidence will certainly double as a bare minimum!
Book for Hair Transplant Treatments in Turkey Today
Without a doubt, you should always be comfortable in your own skin, and getting hair transplant treatments might be just what you need to gain that confidence boost again.
With everything that we have to offer you, it certainly is the Ideal solution for you. We try, to the best of our ability, to make this journey as comfortable and stress-free as humanly possible with packages that include transport to and from the airport, the hospital, the hotel and more. You will be treated like absolute royalty.
Book a free consultation and speak to one of our experts for advice, tips, packages and more. Let us help you gain more confidence in yourself. With our competitive prices and expert advice, you'll be on a flight to Turkey in no time!
TALK TO A HAIR TRANSPLANT SPECIALIST
Frequently Asked Questions