Meet Ida - the ideal chatbot
Talk to a Hair Restoration Specialist
Compare Hair Res­toration Pack­ages
Jump right in and read about the hair transplant package for you:
Default Packages

Specialized Packages

Combination Packages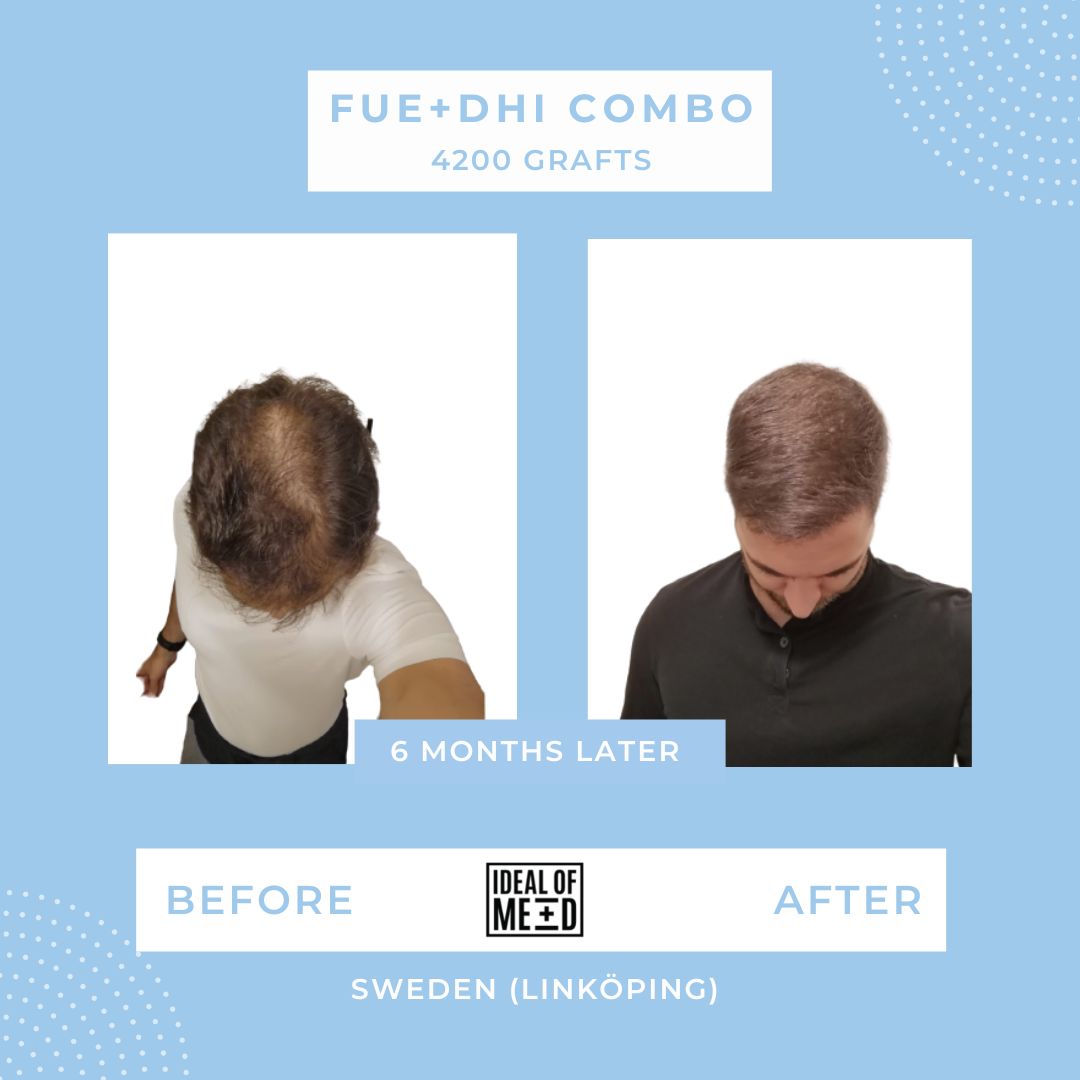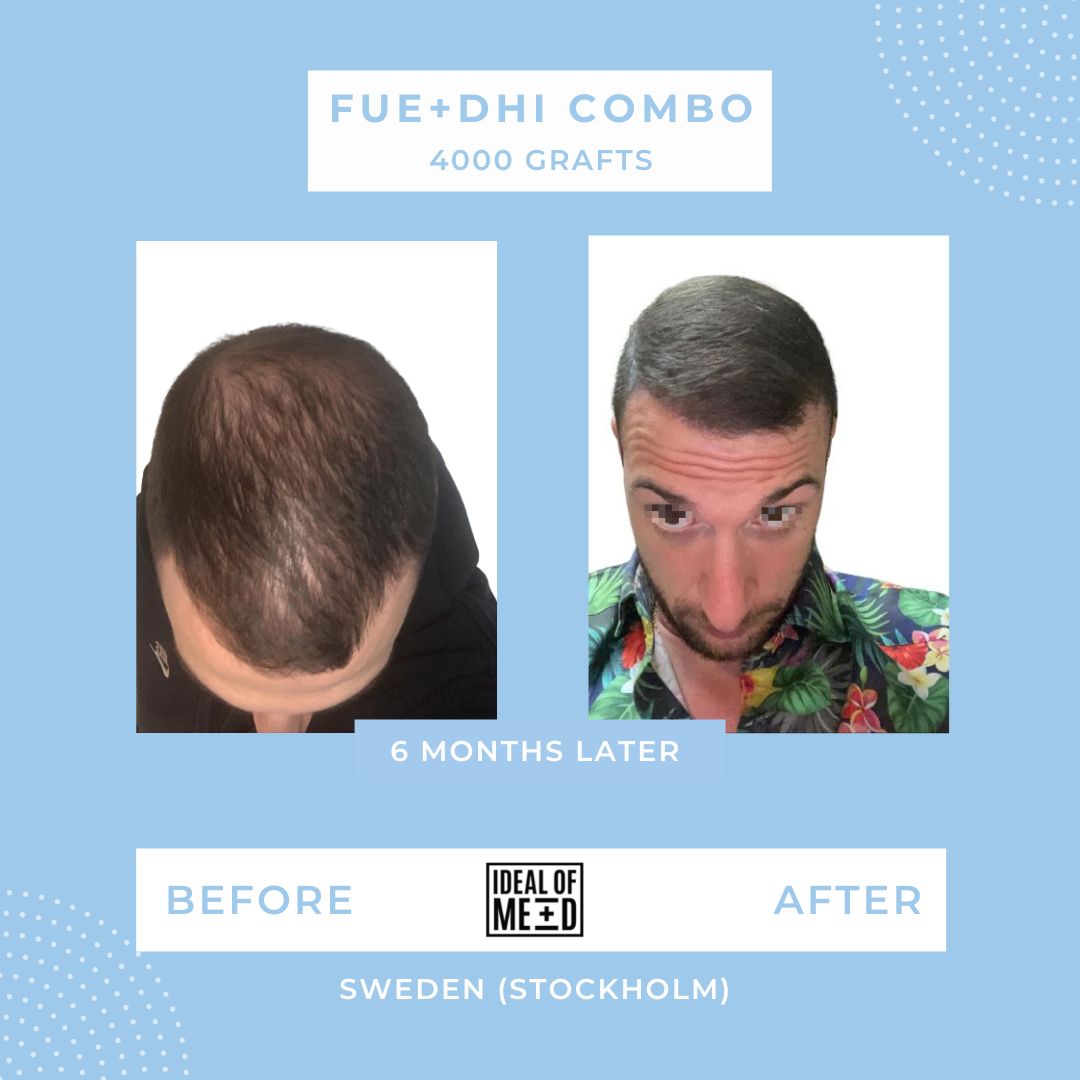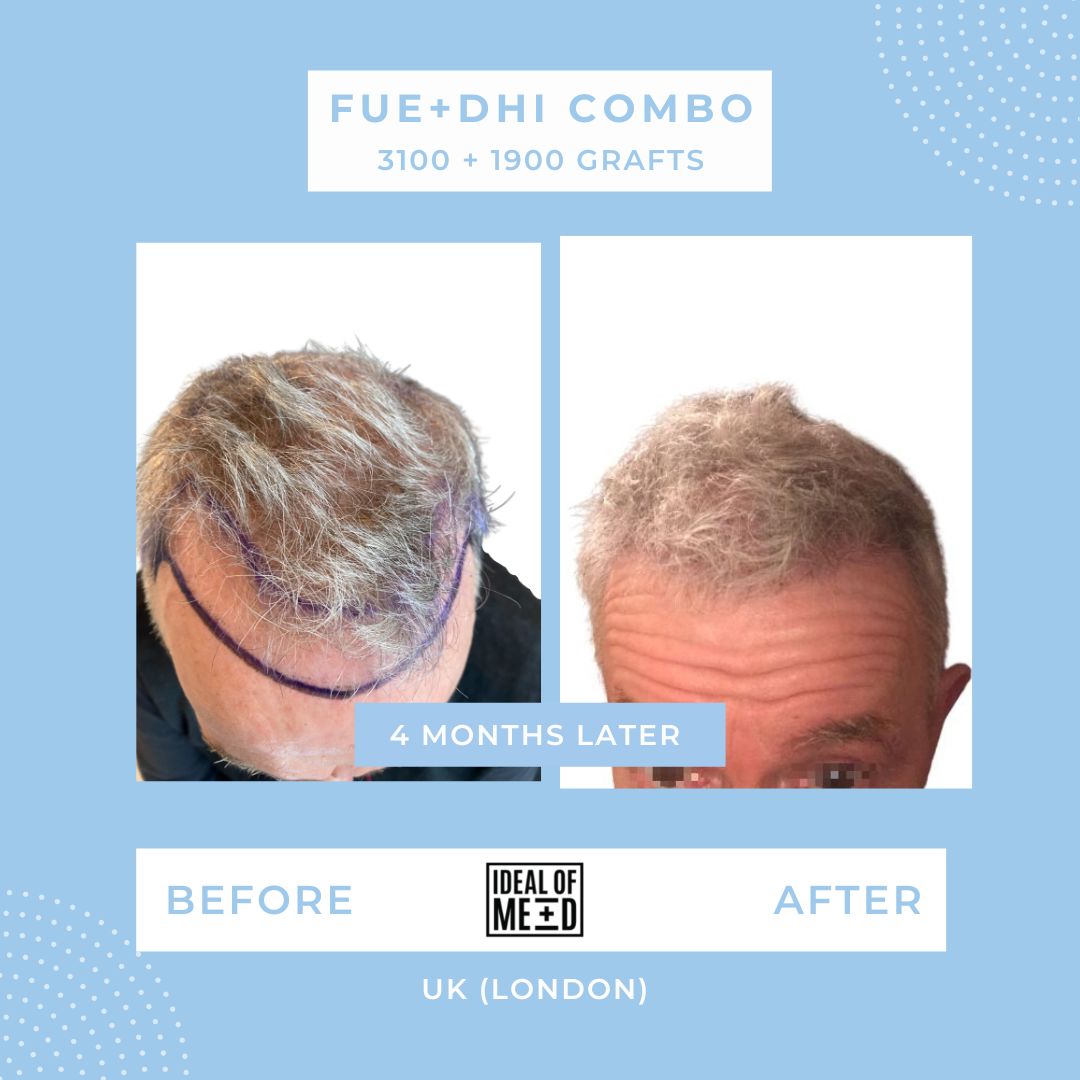 Book Your Free Consultation
Having to come to Turkey probably feels a bit inconvenient. However, being situated in Turkey allows IdealofMeD to offer you 3 hair transplant packages of unrivalled quality, while still being able to pass on the substantial cost savings to You.
In fact, our trademark Ideal Combination FUE/DHI Surgery with a 6 person surgery team, would not be possible to do anywhere else.
Standard
Premium
Executive

Hotel

3 Nights

5 Nights

10 Nights

5 star hotel with amazing breakfast

single room

double room

junior suite

Hair Restoration Box (pre op)

✔

✔

✔

Hair Transplant Box (post op)

✔

yes

✔

Hair Rejuvenation products

✘

12 months

15 months

FUE Sapphire

✔

✔

✔

Direct Hair Transplant (DHI)

✔

✔

✔

Ideal FUE/DHI Combination Surgery

Extra cost

included

included

Great Hair restoration for men

✔

✔

✔

Great Hair restoration for women

✔

✔

✔

3-4 people surgical team

✔

✔

✔

6-8 people surgical team

extra

✔

*

✔*

Light meal during surgery

✔

✔

✔

Anti-aging box

✘

✘

✔

Transplant area healing duration

5-6 days

4-6 days

4-6 days

Trauma and Scalpe Tissue Damage

✘

✘

✘

VIP transfer

✔

✔

✔

Mesotherapy

no

1 treatment

2 treatments

Booster Shot

1

2

3

Growth Therapy

✘

✔

✔

Dental checkup

✘

✔

✔

Dental cleaning

✘

✔

✔

Health Checkup

✘

✘

✔

Epigenetic test (biological age)

✘

✘

✔

HyperBaric Chamber

✘

2 HBOT

7 HBOT

Graft Survival Rate (ICE method)

98.80%

98.80%

98.80%

Washing Hair

1 Wash

3 Washs

8 Washs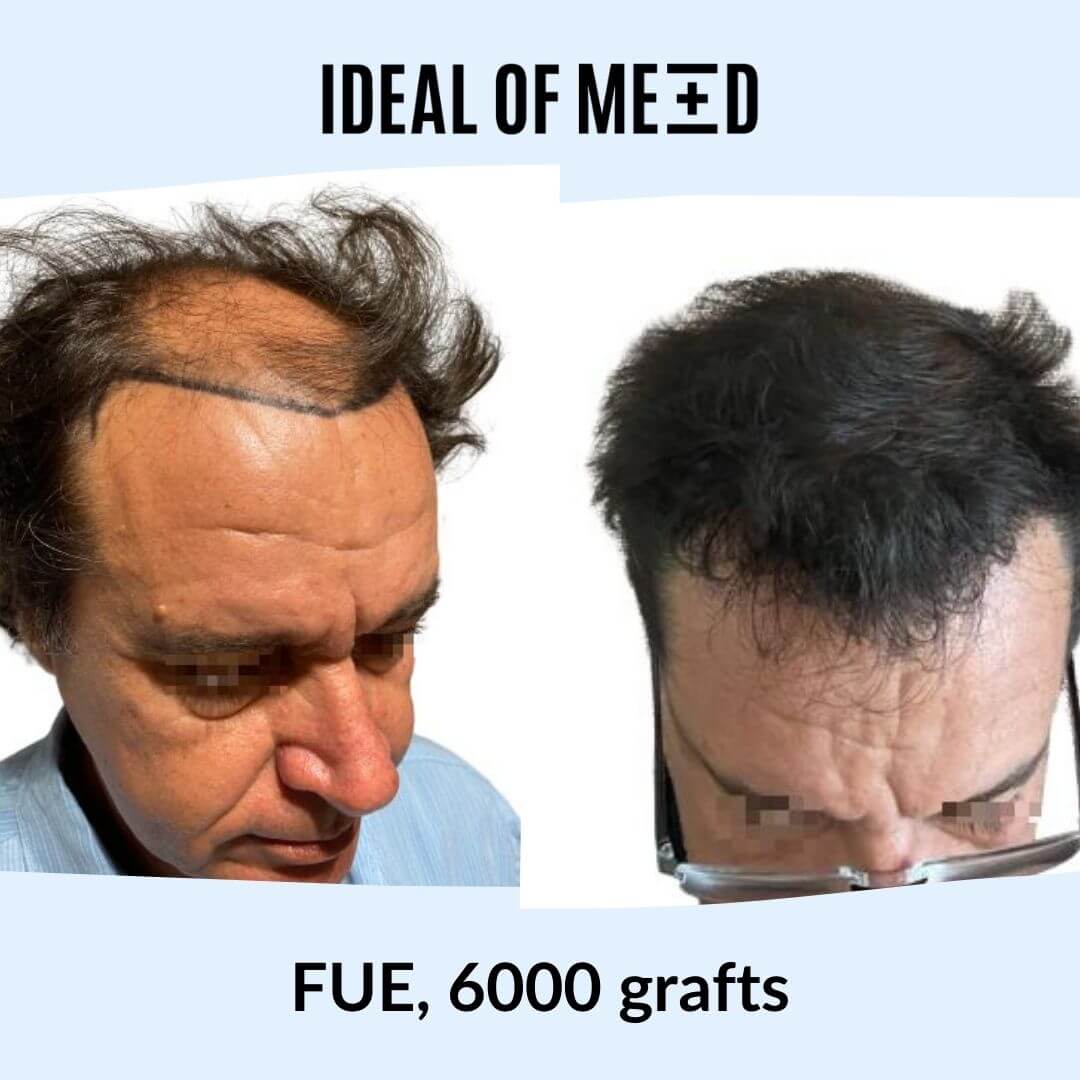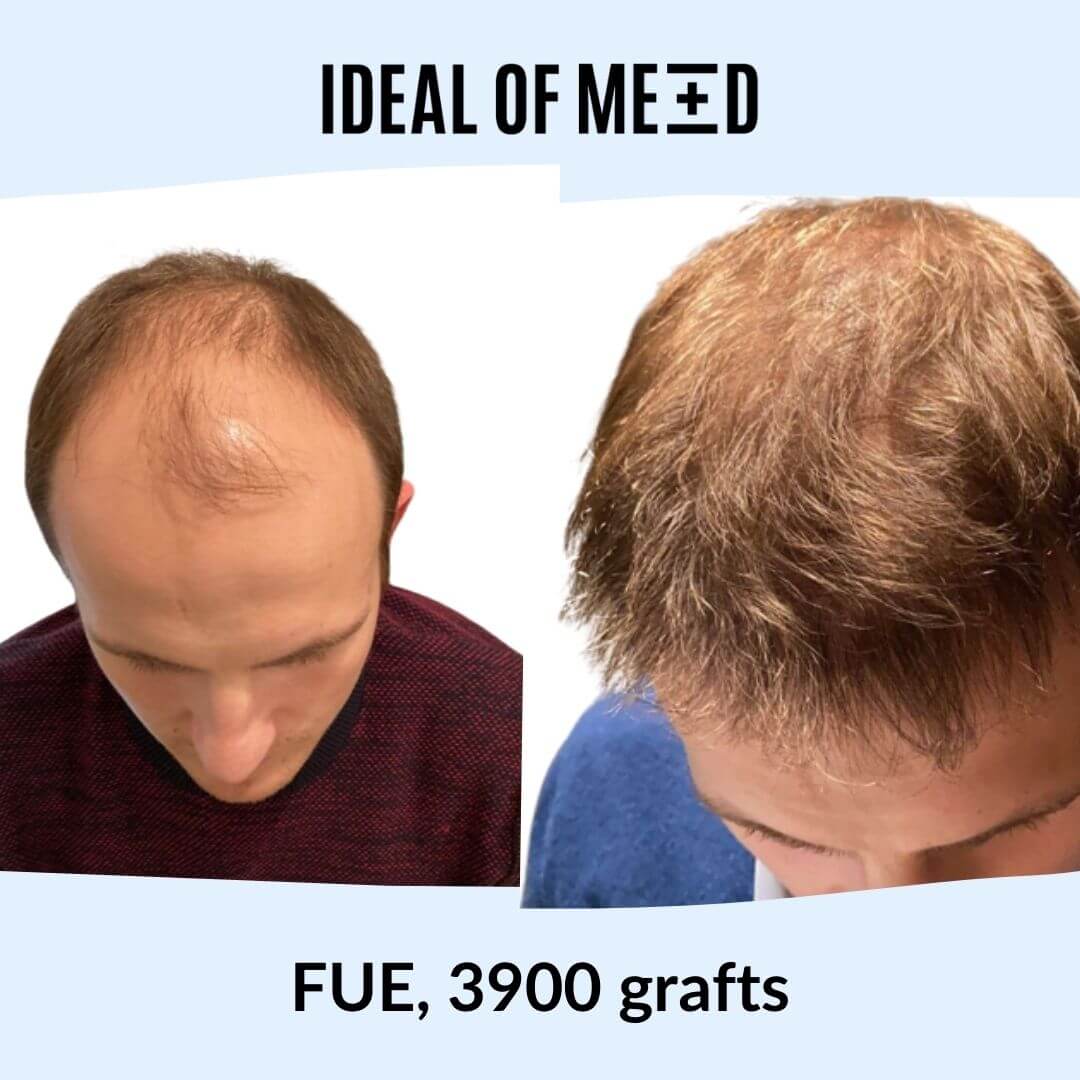 Our basic package is probably considered premium by most clinics' standards. This package perfect for You if your hair situation is suitable to either FUE Saphire or DHI separate and can't combine them using the Ideal Combination Surgery. Your transfers are VIP and You stay 3 nights in a 5-star hotel here in Istanbul, where we will take great care of you.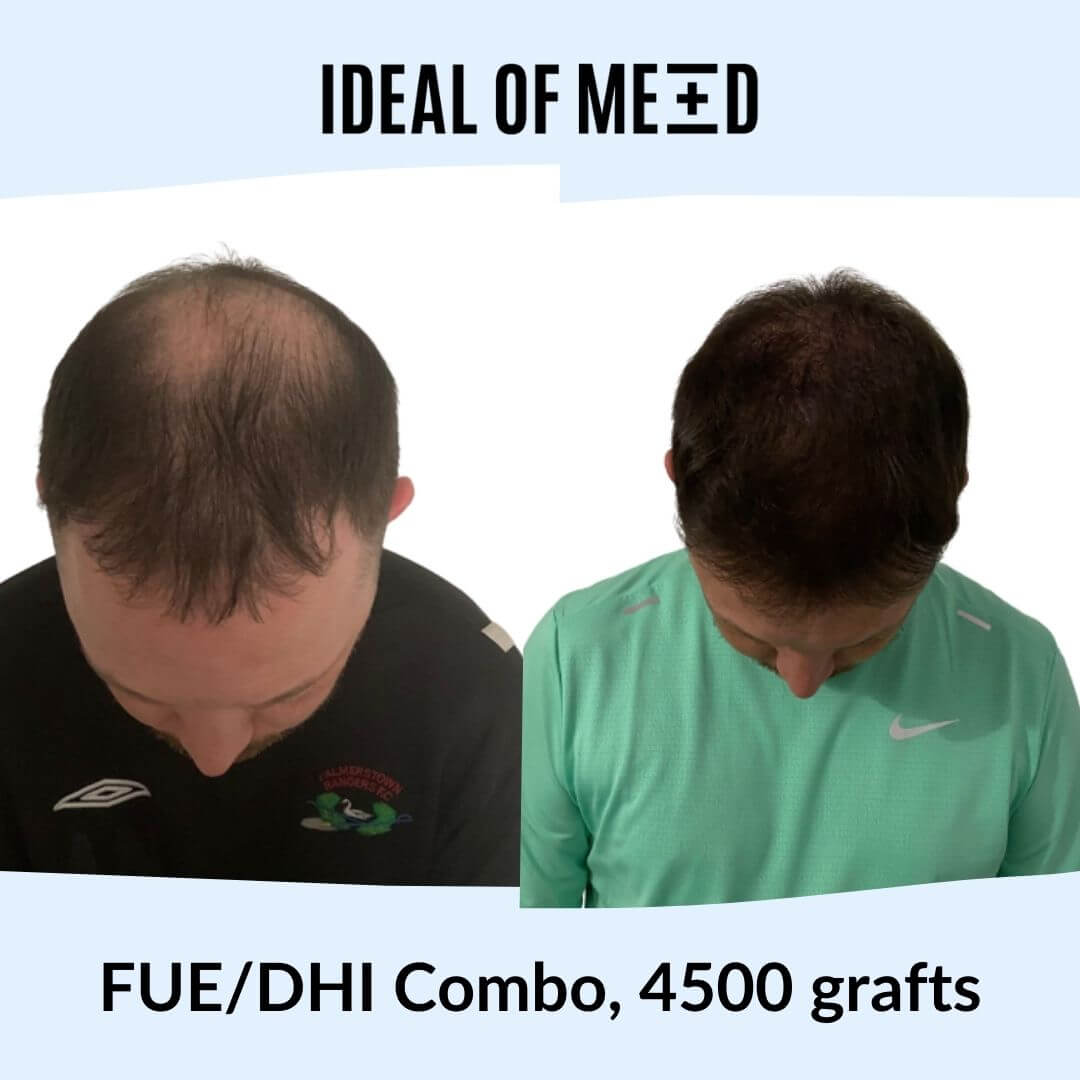 The premium package is our most popular one, as it is customized for our trademark Ideal Combination Surgery, where our 6-person surgery team combines FUE & DHI, so You don't have to do additional hair transplants. Additionally you get some exclusive treatments to speed up your healing during your 5 night stay at a 5-star hotel here in Istanbul.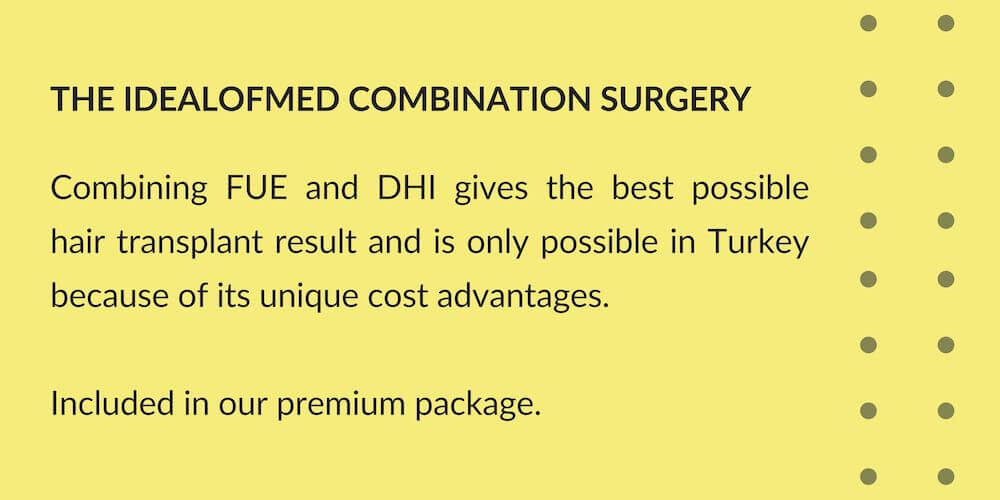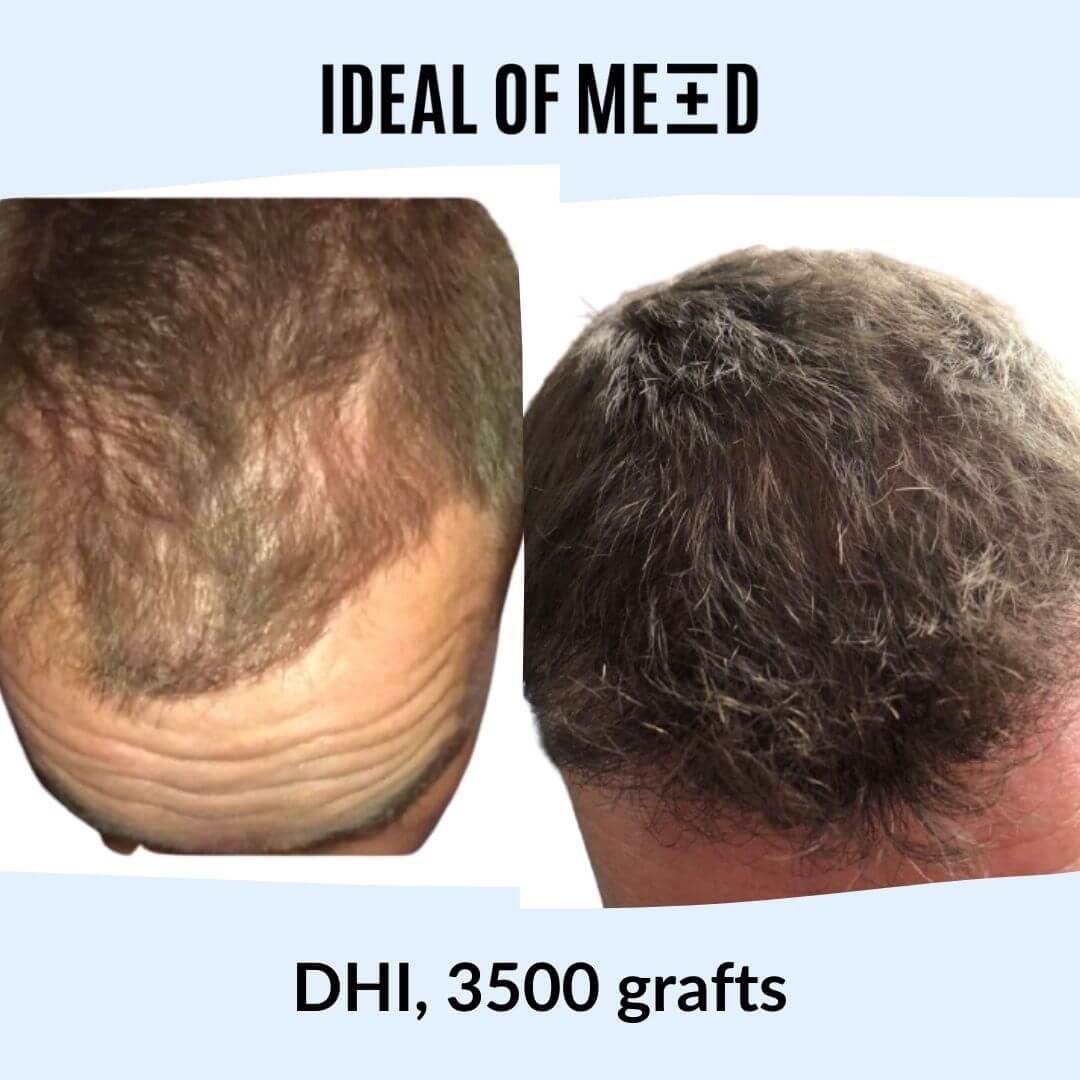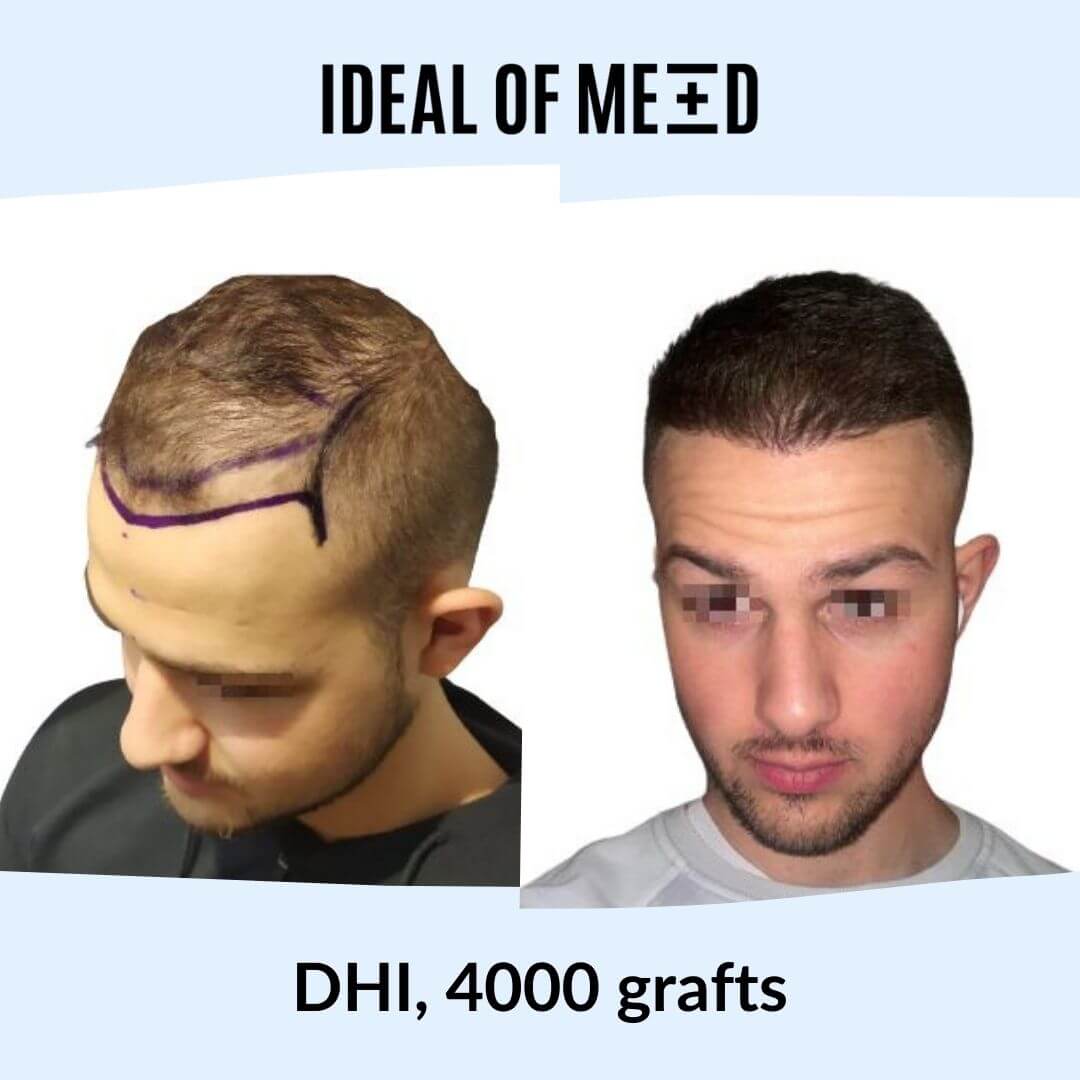 We should probably have named this package the Ideal of Me Express instead. During your 10-nights stay at a 5-star hotel stay in a junior suite ,we will treat you to anti-aging treatments & typically a DHI-hair transplant. When you return, you will look and feel younger and the only thing your colleagues and friends will notice from Your hair transplant is that you got a new haircut.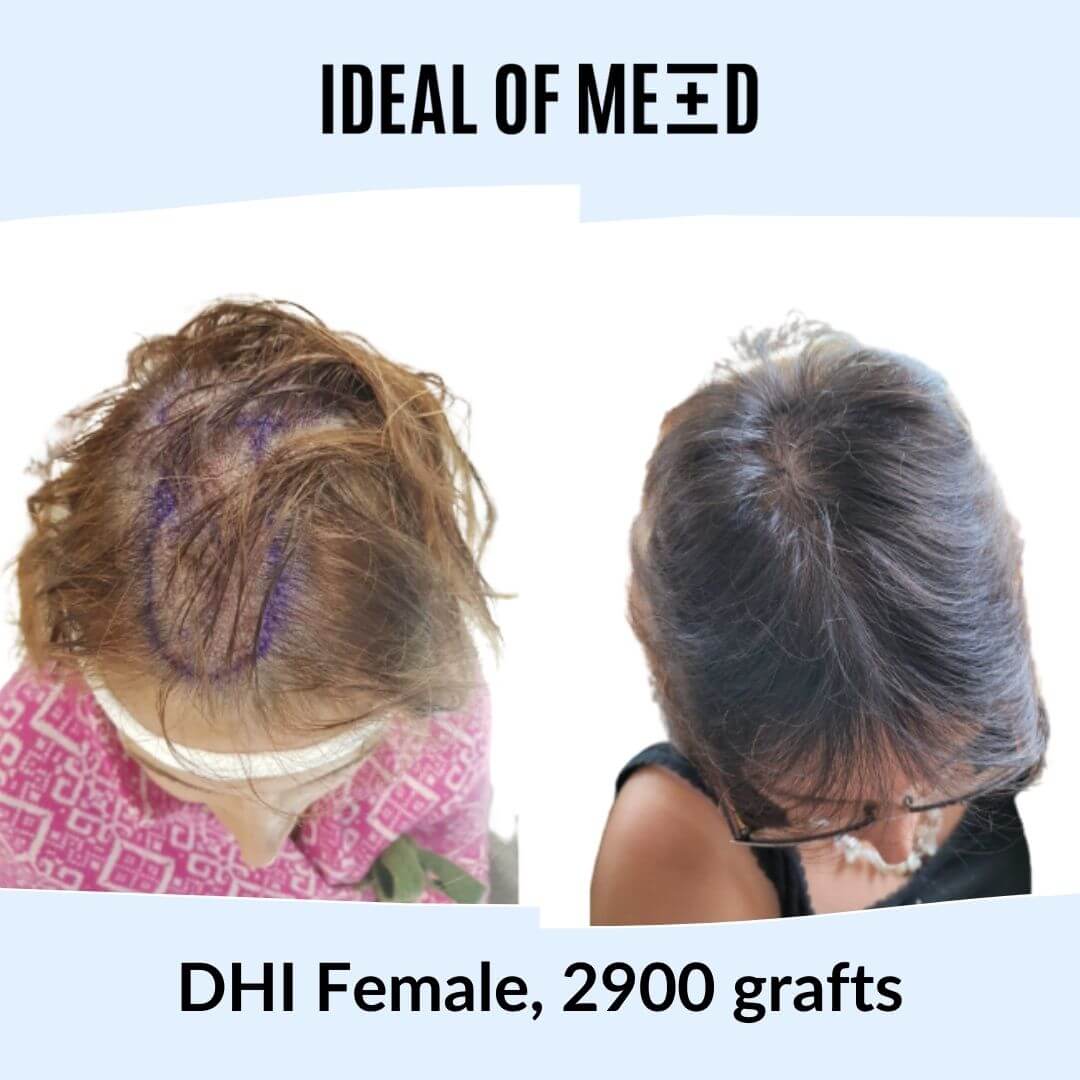 Female Hair Transplant Package
Unique from all other packages that are focused on men for the best results. Talk to one of our female Specialists to discuss hair loss solutions. Below the overview for our two available female hair transplant packages.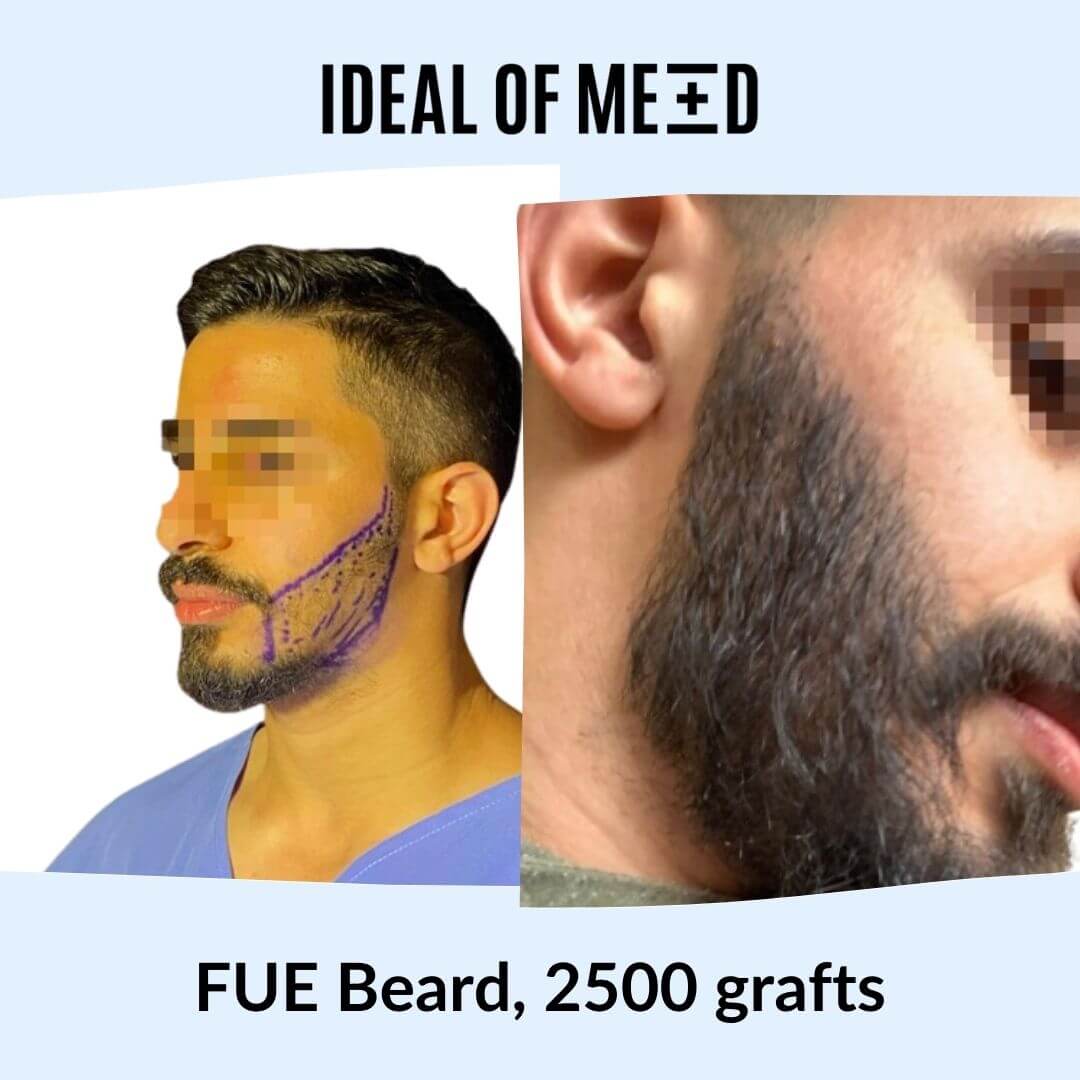 Beard Restoration Package
Our Beard Transplant is done with the Sapphire FUE Method and is all-inclusive. Enquire about combining your beard transplant with a hair transplant for a custom package (with advantageous price). 
No-Shave Hair Restoration Package
Talk to one of our specialists about our no-shave hair restoration option to see if you're a candidate.
Eyebrow Restoration Package
Talk to an expert about our eyebrow restoration package option.
Hair + Beard Combination Package
Talk to an expert about our hair + beard restoration combination package option.
Hair + Eyebrow Combination Package
Talk to an expert about our hair + eyebrow restoration combination package option.
Ideal FUE/DHI Combination Surgery
Talk to an expert about our "flagship" Ideal FUE/DHI combination surgery, available as an extra in the standard package.
GET OUR BEFORE/AFTER CATALOG
Our Hair Trans­plant Methods
Our Exclusive FUE/DHI Combination Method
All-Inclusive
Get FUE and DHI at the same time
Included in the premium- and standard package

With our exclusive DHI/FUE Combo surgery two surgical teams give you both an DHI hair transplant as well as a FUE hair transplant for the very best results.
This ensures coverage and density across the entire scalp for a natural look. 
We're happy to answer any questions and discuss your suitability for this type of hair hair transplant.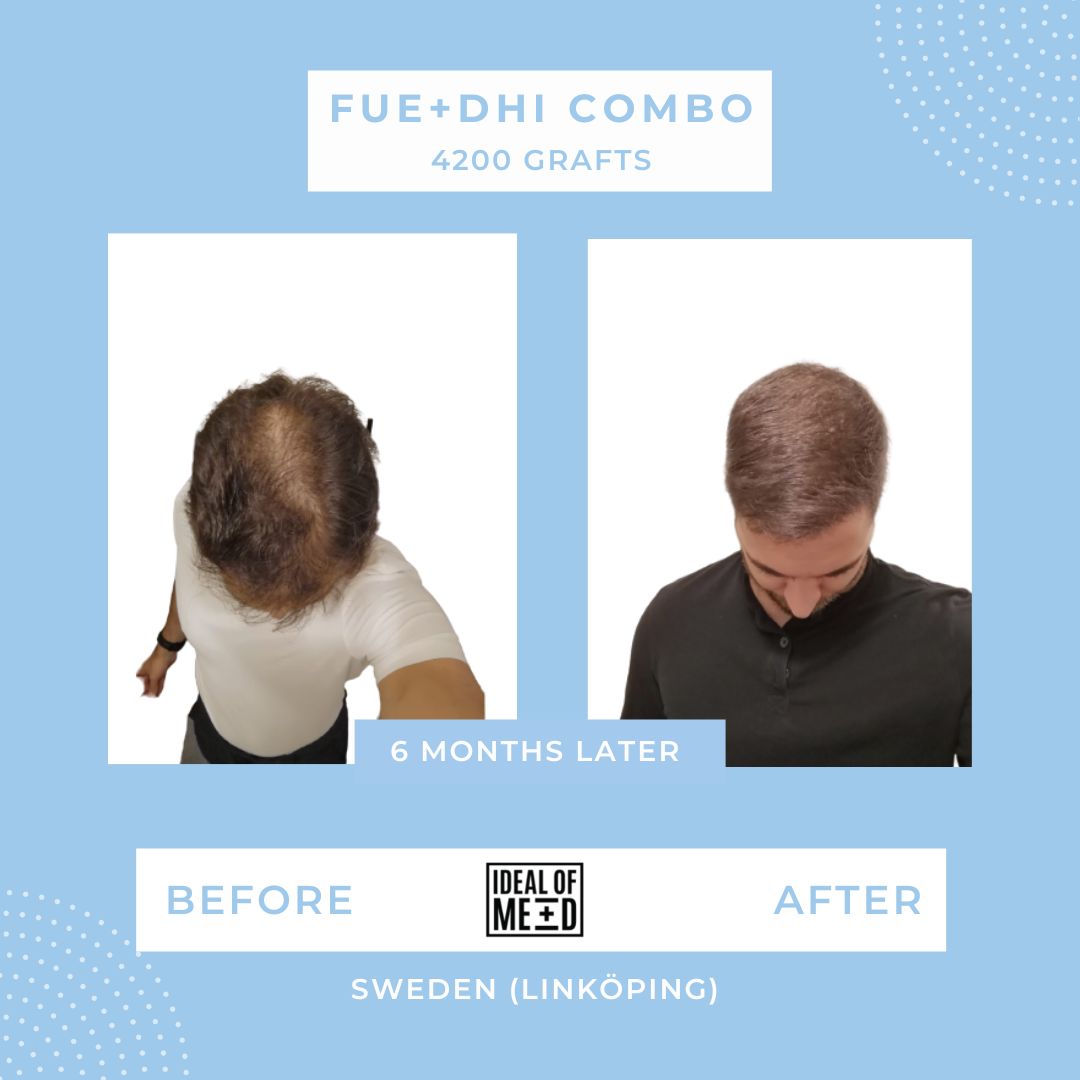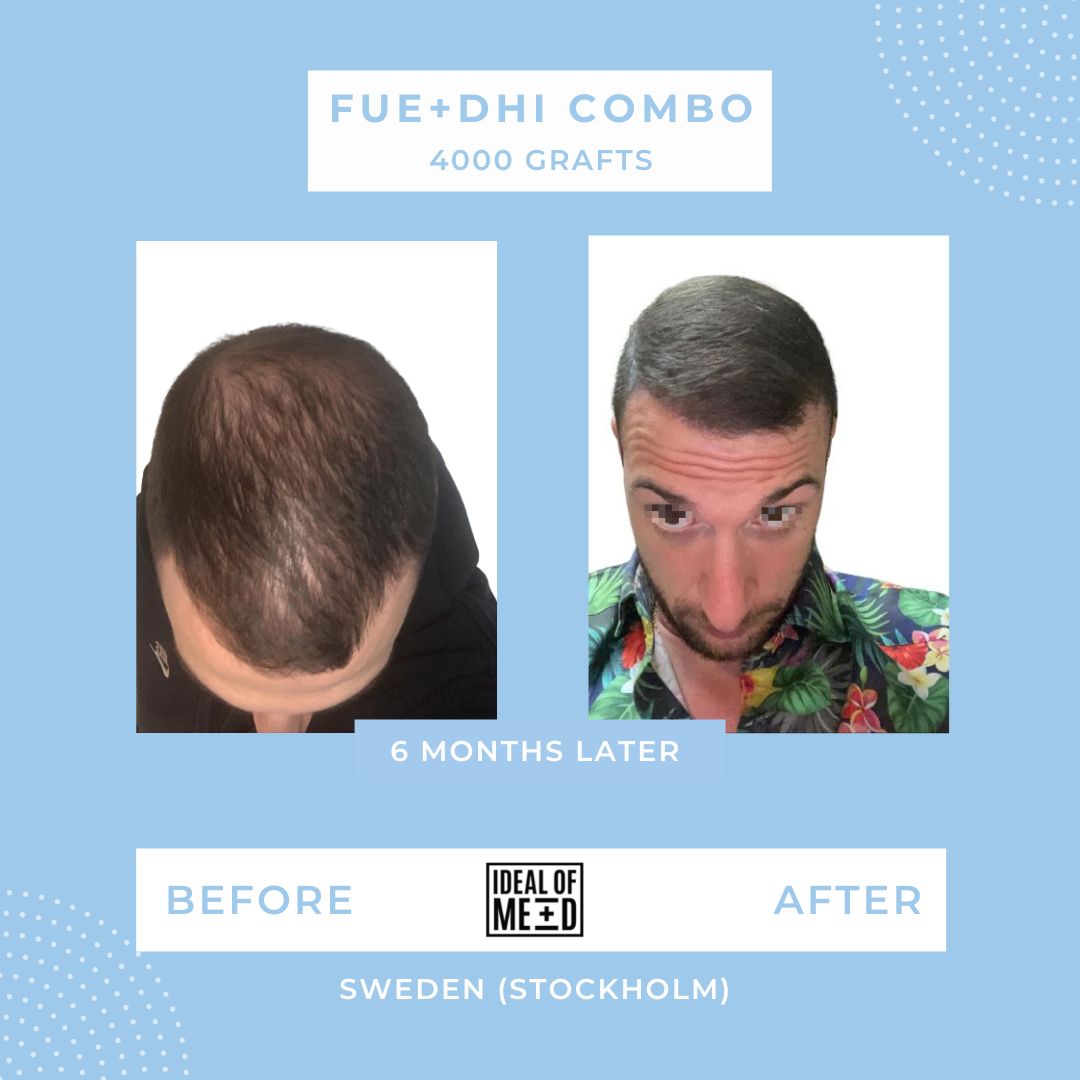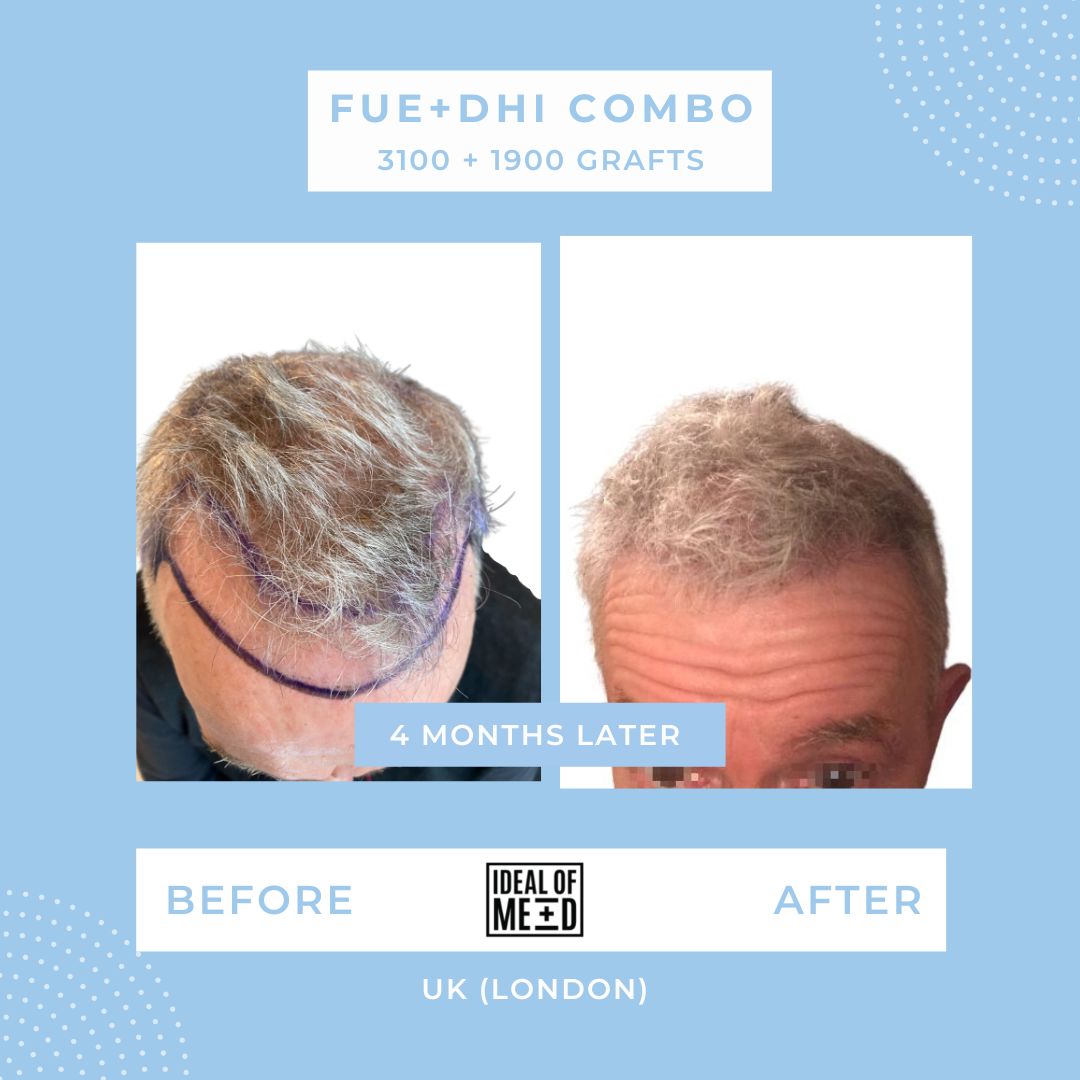 FUE Hair Transplant Method
All-Inclusive
Best for coverage

If you're looking for a natural hairline, the FUE method can help you achieve this. 
The FUE hair transplant method is included in all our packages. 
We're happy to answer any questions and discuss your suitability for this type of hair hair transplant.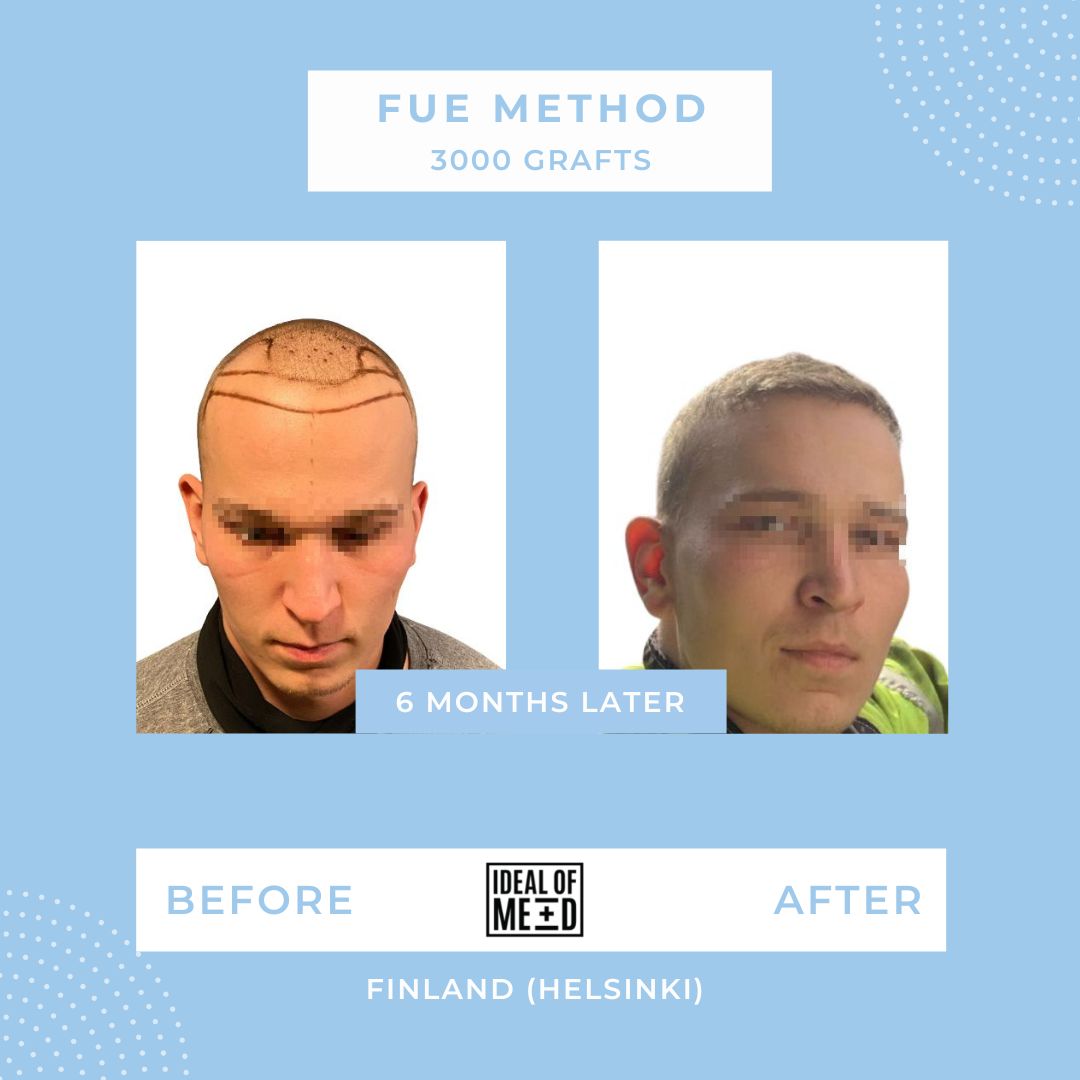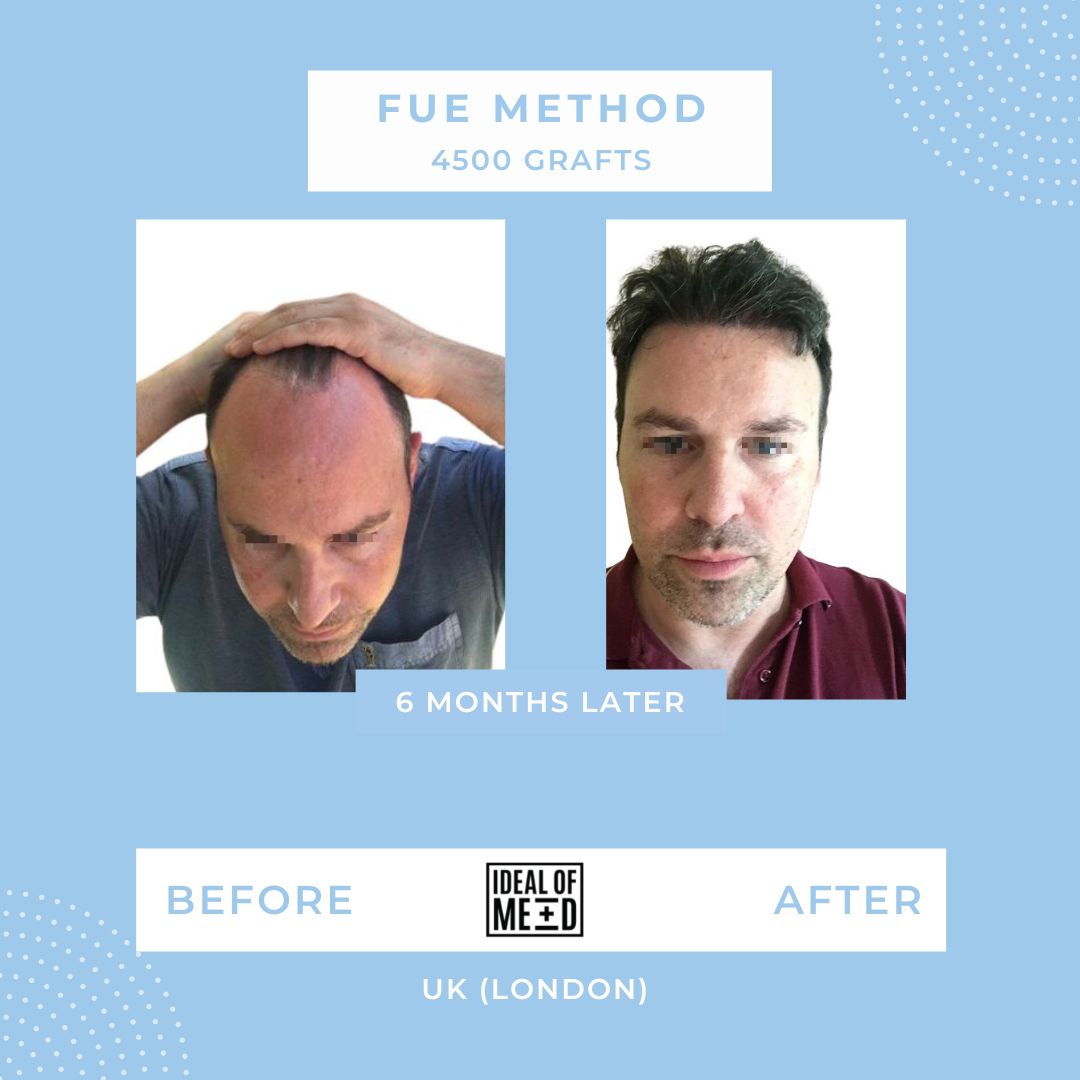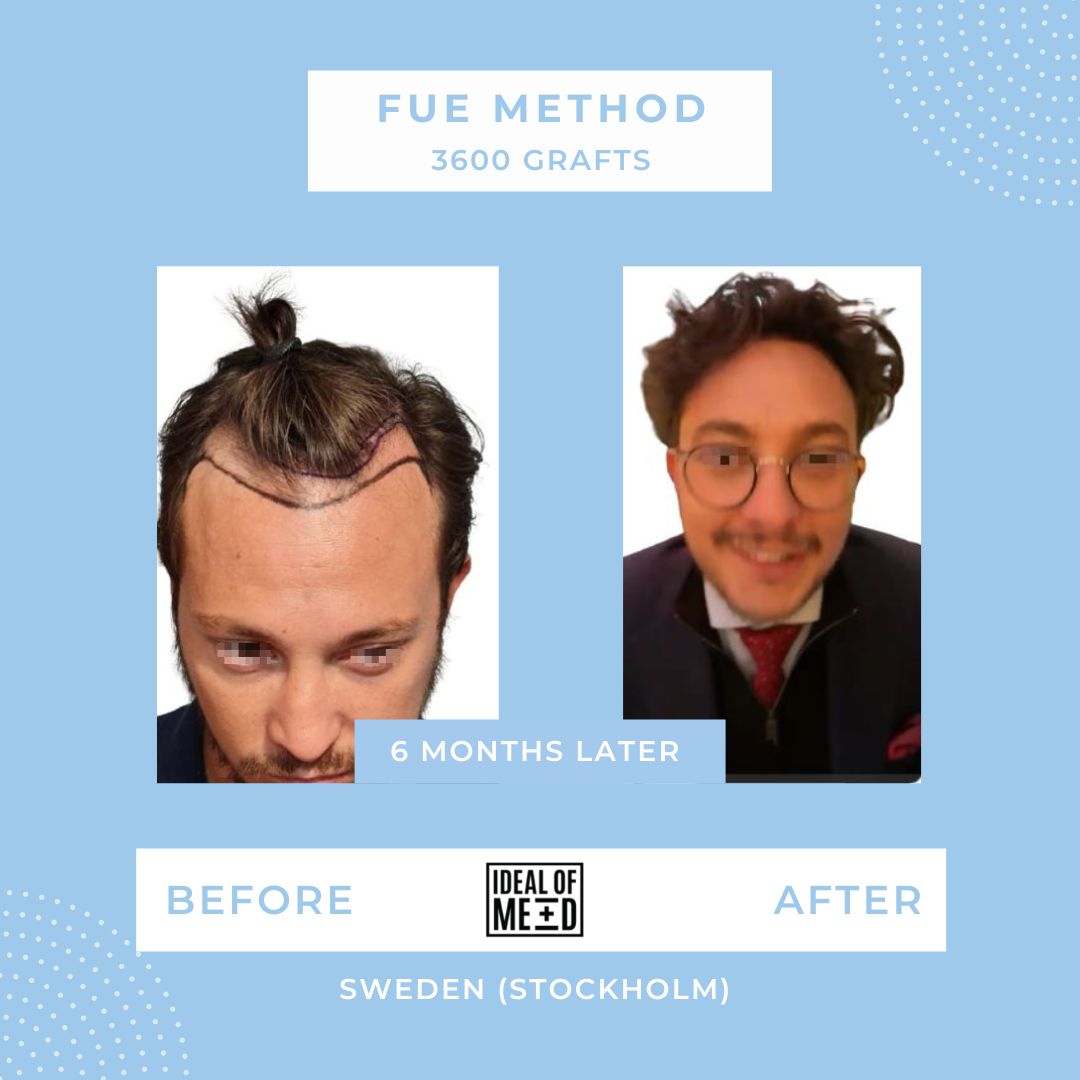 DHI Hair Transplant Method
All-Inclusive
Best for density

If you're looking for denser hair, the DHI hair transplant method is what you need.
You can choose for the DHI method in any of our hair transplant packages.
We're happy to answer any questions and discuss your suitability for this type of hair hair transplant.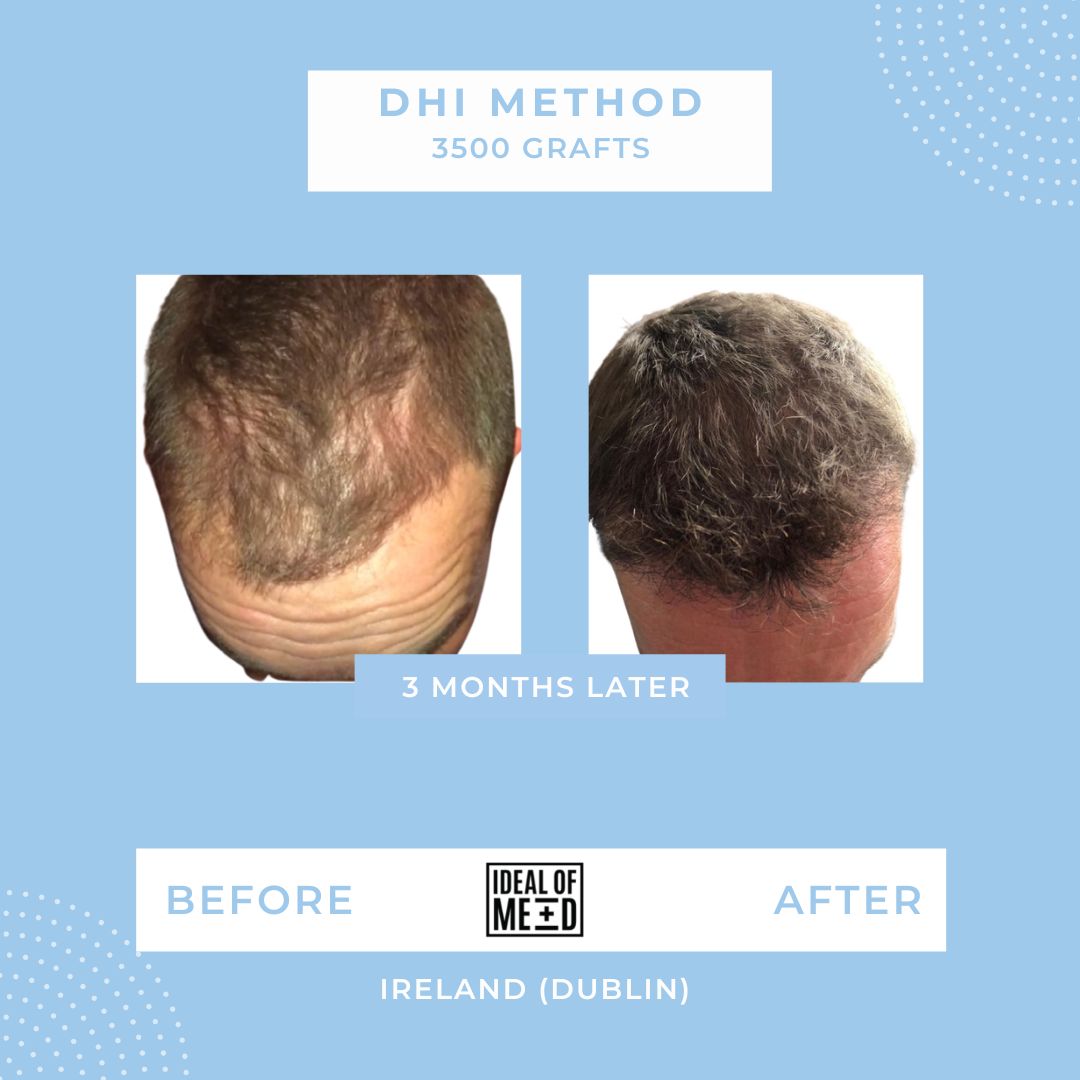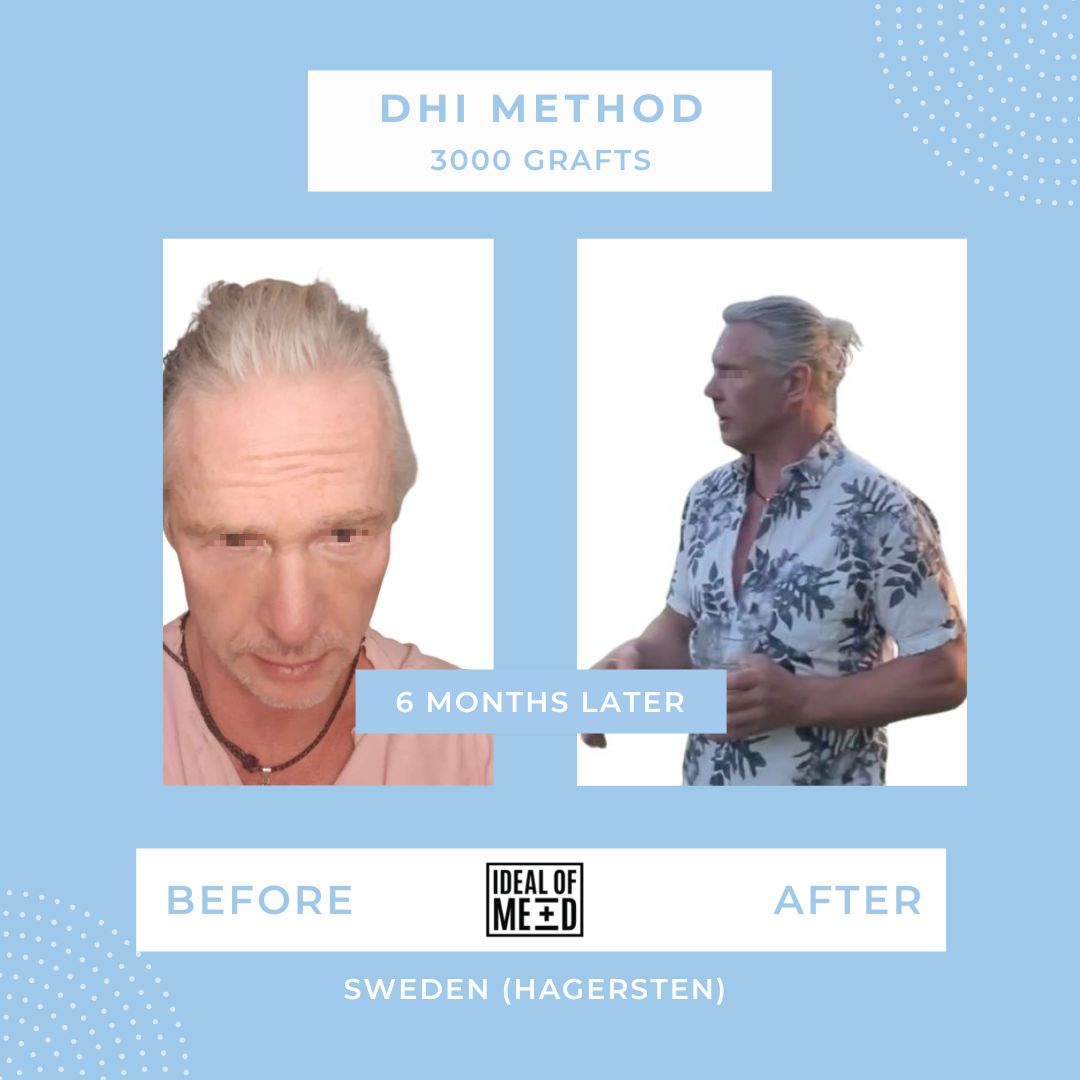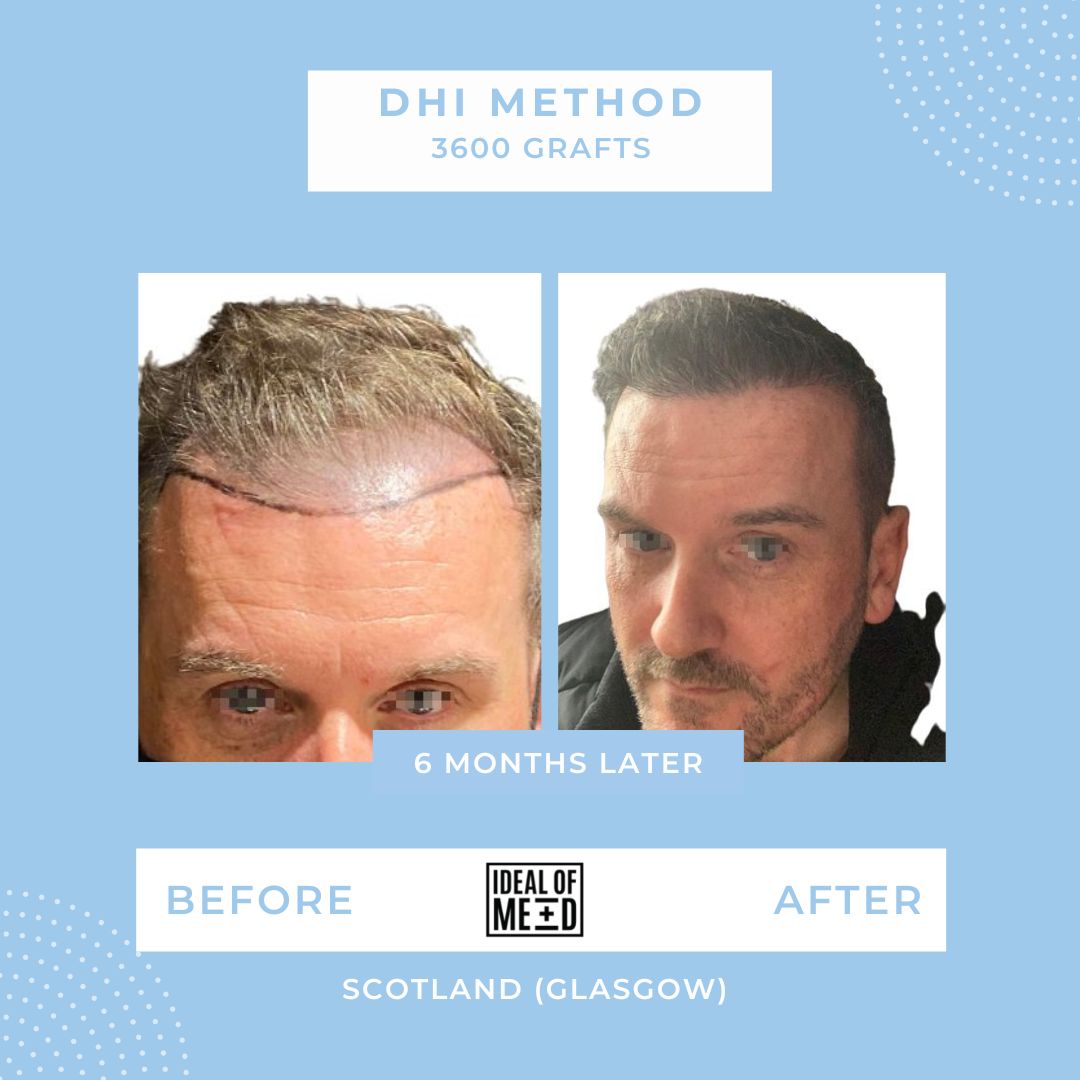 SIGN UP FOR OUR MONTHLY NEWSLETTER
Get the Best Price for a Hair Transplant in Turkey
For many people struggling with hair loss, hair implant prices can be difficult to justify. But when you consider the impressive all-inclusive packages at your disposal when opting for a hair transplant in Turkey with IdealofMeD, the value for money is astronomical. 
We offer all-inclusive hair transplantation packages so that you can afford to benefit from the best quality hair restoration treatment without forfeiting the quality you can and should expect when committing to a cosmetic procedure, such as hair implants.
Whether you opt for our standard, premium or executive all-inclusive package offering, you are guaranteed exceptional quality from the moment you arrive in Istanbul. You can look forward to our VIP transfer service, upon your arrival in the gorgeous city of Istanbul, boasting a complimentary minibar and free Wi-Fi for you and your travel companions. To put your mind at ease, you can also expect transfers between the airport, your hotel and our state-of-the-art IdealofMeD hair transplantation facilities.
In addition, the cost of a hair transplant in Turkey includes a 4 or 5-star hotel, for the duration of your treatment. The great news is that this comes standard as an inclusion in all of our packages!
The bottom line, the cost of a hair transplant in Turkey at IdealofMeD is well worth it!
All-Inclusive, Always with 1 Day Rest
Even our standard package is considered premium by most already. At IdealofMeD. you always spend a minimum of 3 nights in a beautiful hotel. This ensures your scalp has enough time to heal and we can show you what your hair will look like following the surgery. 
Our Standard package includes:
DHI or Sapphire FUE hair transplant
A hotel close to the hospital
VIP Transfers
Our Exclusive Hair Restoration Box and Hair Transplant Box
A 4-person surgical team
Climate compensation for the trip, products, and procedure
Included in your Cost of Hair Transplant in Turkey
8-people team instead of 2
Our premium and executive operations are performed by an 8-person team, instead of 2 and even our standard package is a team of 4. Our hair restoration specialists place great emphasis on top-notch results and post-operative care and recovery. 
With over 35 years of experience in Turkey, you can rest assured that our team of hair restorative specialists has your best interest at heart. We aim to combine traditional Nordic medicine and attention to detail, as well as our famous Turkish hospitality.
Unlike many other clinics, equipped with just 2 surgeons, we boast a team of 8 surgeons who will dedicate 6-8 hours to you on the day of your procedure. This grants us the manpower we need to deliver world-class IdealofMeD. combination transplantation which will be covered below.
IdealofMeD. delivers natural results using our combination hair transplant surgery
By combining FUE, on balding areas, and DHI on areas lacking density, we are equipped to deliver the best results at a fraction of the price. The IdealofMeD. combination surgery is included in the premium and executive packages. In our standard package a 4 people medical team does either FUE Sapphire or DHI. 
Post-operative Recovery Products
Hair transplantation recovery can be an extended process. Because we truly care about our patients, all of our packages include a box of post-op products designed to help you care for your new hair and in turn, contribute to the best possible hair transplant results.
For those opting for our premium and executive packages, a hair vitalization box, estimated to last you 12 months, is included in your package cost of a hair transplant in Turkey. This revitalization box includes our IdealofMeD. Hair Vitamins, Hair Restoring Shampoo, Hair Restoring Conditioner, and our cutting-edge Collagenic Scalp Serum, designed to provide intensive care in support of a healthy scalp, prevent hair loss, and restore the keratin structure of the hair shaft.
Hyperbaric Oxygen Therapy for Our Premium and Executive Patients
For our patients who have opted for our most popular package, the premium package, and those on our executive package, you will be treated to advanced technology, Hyperbaric Oxygen Therapy, otherwise known as HBOT.
This treatment consists of an enclosed chamber in which our patients will lie down, while 100% oxygen is pumped in at high pressure and as a result, leads to a reduced risk of folliculitis and itching. Folliculitis is an infection of one or more of the pockets, otherwise known as follicles from which hair grows.
HBOT increases the production of new skin cells and collagen by encouraging the production of new blood vessels and signal proteins which function as a stimulant for the formation of blood vessels. All in all, this leads to fast-tracked hair growth and healing of the donor area post-transplantation.
Decreased pain, swelling, and bruising have been reported by patients who have undergone HBOT post-operation. Because we check on our patients after their operation, we have also recorded a decreased recovery time in those who have undergone the HBOT.
Our executive patients will receive seven Hyperbaric Oxygen sessions, not only speeding up the recovery of the donor area but also providing them with the anti-aging benefits of this modern technology.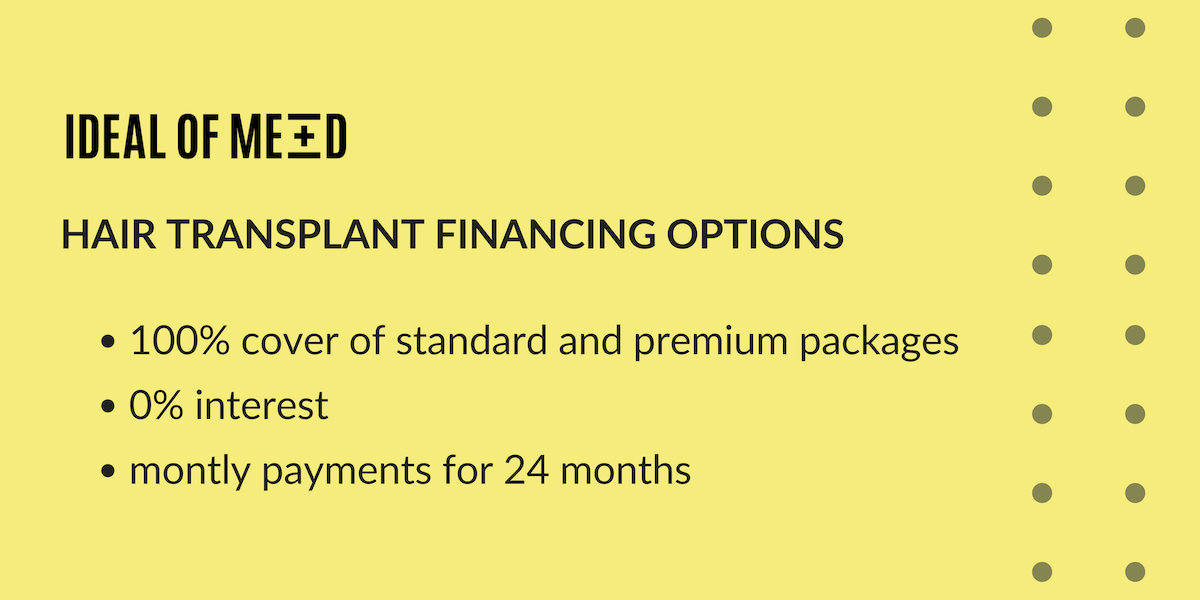 To help kickstart your hair restoration journey, we offer financing solutions on our premium and executive packages. As depicted in the graph, our all-inclusive standard package is set at only €2,990.
However, our premium and executive options are payable over 6-24 months, meaning you can have the head of hair of your dreams without drawing out your life savings for a cosmetic procedure.
Get in touch to find out more or book your consultation now!
Everything you need is included, there's no hidden costs! Check our 3 packages and see the differences to see what is right for you.
The cost of a hair transplant in Turkey can be quite difficult to figure out. Not at IdealofMeD. We have listed all you need to know, so that you can be 100% sure all is taken care of. 
We do! Book a free consultation to learn more about getting a female hair transplant at IdealofMeD.
OUR TEAM IS AVAILABLE 24/7