Reference guide for (prospective) patients at IdealofMeD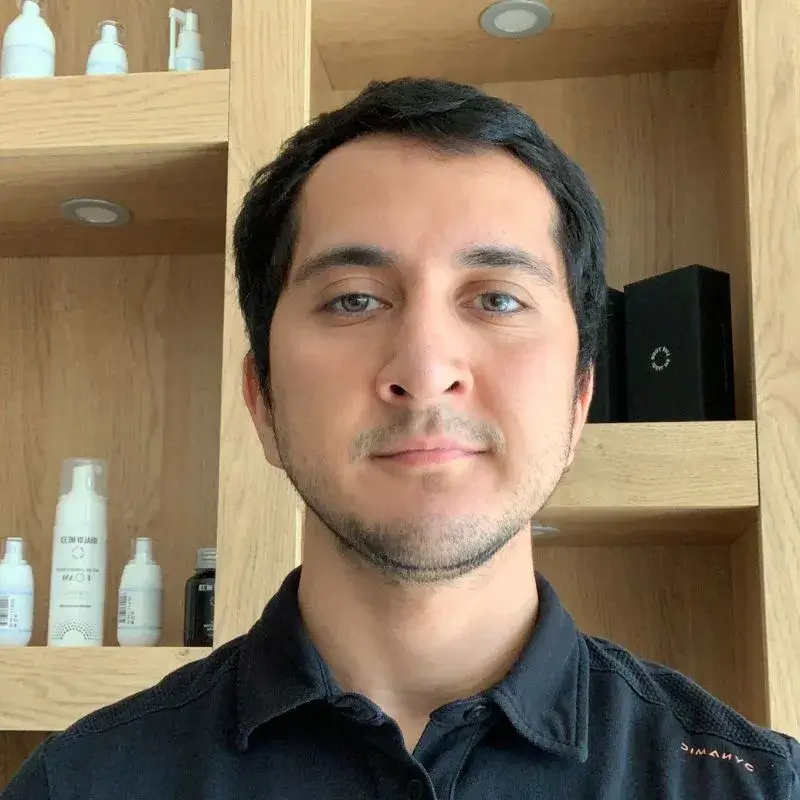 Fatih Özsoy, Hair Transplant Aftercare Specialist
Last edited, 15 November 2023
We appreciate your time in reviewing the IdealofMeD consultation preparation manual. This document aims to provide you with a broad overview of the support and guidance we offer before your hair transplant.

Please bear in mind that the content in this guide is of a general nature and may not be entirely applicable to your individual circumstances. For specific instructions, always refer to the personalized guidance provided by myself or my team.
We Make it Easy To Book a Free Consultation
The first and most crucial step in your consultation journey is reaching out to us and book a free consultation through the messaging platform of your choice. We offer multiple options for your convenience, including WhatsApp, Messenger and a contact form.
Book Your Free Consultation
What You'll Learn During Your Consultation
Booking a free consultation for a hair transplant provides you with a wealth of information and personalized guidance, ensuring that you are fully informed and comfortable with your decision. During the consultation you have the possibility to as a hair transplant or dental expert all questions you might have, the expert will also provide you with indormation on the following:
Determine if You're a Candidate for Treatment: Our free consultation is your chance to find out if you are a suitable candidate for the treatment you're considering. Our experts will assess your individual needs and medical history to ensure the treatment is safe and effective for you.

Discover the Best Method for You: We offer a range of methods for hair transplants, including DHI, Sapphire FUE, and combinations of these techniques. During the consultation, we'll help you determine which method is best suited to your specific requirements and goals.

Graft Estimation: Understanding how many grafts you need for your treatment is a crucial aspect of the process. We will provide you with a personalized assessment to give you a clear idea of the extent of the procedure.

Natural Results: Everyone wants a natural look after their hair transplant. During the consultation, we'll explain how we can achieve the most natural results for your unique situation, so you can confidently move forward.

Cost Assessment: Cost is an important consideration for any medical procedure. In your free consultation, we will provide you with a transparent and accurate estimate of the cost associated with your treatment plan and provide details of the different hair transplant Turkey packages that we offer. This helps you plan your budget accordingly.

Availability and Scheduling: We'll also discuss available dates for your procedure and help you schedule your treatment at a time that is convenient for you. We understand that your schedule is important, and we strive to accommodate your needs.

Holistic Approach: During the consultation, you ll also get to discuss preventive measures such as tailored dietary recommendations, targeted supplements, and optimal sleep patterns before the procedure.
Photos For Your Consultation
The first step towards a consultation at IdealofMeD is to send us clear photos of your current hair situation. When you contact us for a consultation we will ask for images of the front, sides, back, and crown of your head. These photos will help our specialists assess your hair and determine the best course of action.
It's important to take these photos in good lighting conditions, and standing in front of a mirror might help if you are alone.
You can send these photos one-by-one to ensure we have a comprehensive view of your hair.
When you contact us we'll put you in contact with a specialist, usually via WhatsApp or Facetime, but other contact options are available as well. The expert has examined your photos and will provide you with expert feedback.
During this conversation, our specialists will discuss your hair goals, concerns, and any questions you may have. They will work with you to determine the best course of action and provide you with an accurate quote based on your individual needs.
Where to Find the Lastest Discounts
If you're on the lookout for our latest and most exclusive discounts, you'll discover them right within the Hair Back app. We're committed to providing our valued users with ongoing benefits, and the app serves as your go-to hub for accessing special offers, promotions, and exciting deals on our range of hair transplants, vitamins and hair care products.
You can download the Hair Back App already now: download it on the App Store or get it on Google Play. 
The Hair Back App allows you to simulate your hair transplant journey through images. Additionally, it features a forum, guides offering free advice, and much more.
Immediate Questions or Concerns
If you have any immediate inquiries, feel free to reach out to us via WhatsApp. Alternatively, you can send an email directly to me at [email protected]. Our regular office hours are from Monday to Friday; however, we often respond outside of these hours. In case your question is time-sensitive, our support team is available 24/7 and can connect you with a knowledgeable representative within just 5 minutes. If needed, they can also reach our on-call medical support team.
Consultation Process: Feedback and Improvement
At the end of your consultation, we will ask you to fill out a brief form. Your feedback is invaluable to us, as it helps us continually improve and enhance our consultation process. We are committed to delivering the best experience and results to our clients, and your input plays a significant role in achieving this goal. The feedback form allows you to share your thoughts and suggestions, ensuring that IdealofMeD can adapt and refine its services to better serve your needs and the needs of future clients.